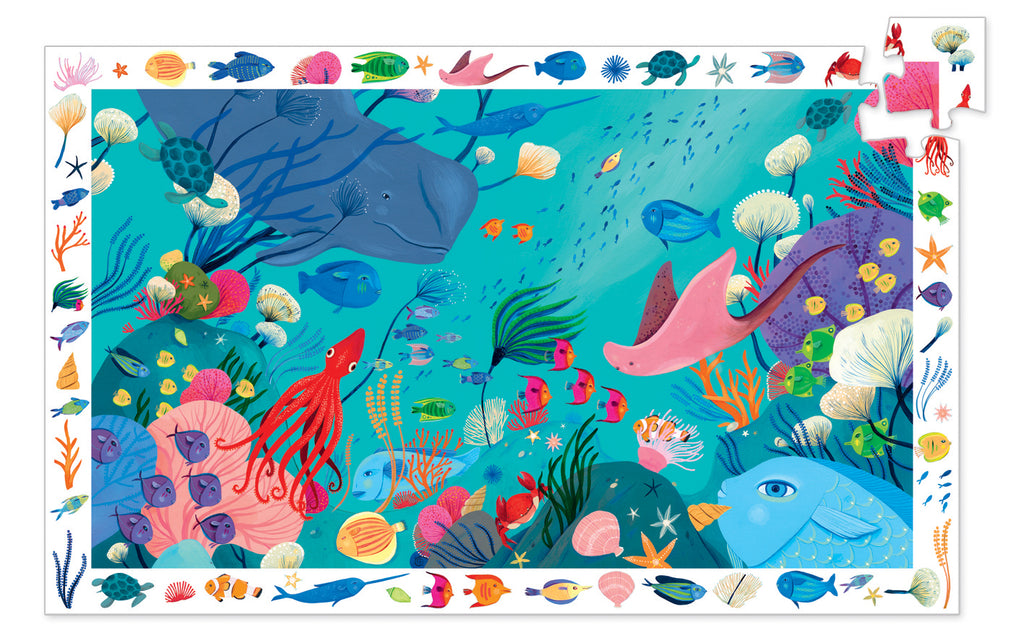 Djeco
54pc Aquatic Observation Puzzle
---
Discover the marine life hidden at the bottom of the ocean. 
There's so much going on underwater! Piece together a colourful Aquatic scene featuring lots of unique sea life, illustrated by the incredible artists at Djeco.
With 54 pieces in the box each full of bright details, this is an excellent puzzle to give confidence to early puzzlers. 
At this difficulty you will find larger sized pieces in the box, each around 7cm across, making it easier for little hands to handle. 
This special range of 'Observation' puzzles ensure each jigsaw is full of replayability. 
First follow the white border around the picture as your starting frame, to piece together the image. Then once all the pieces are in place, get lost in the artwork as you work to find each hidden object or character detailed on the border... it's true, every single one is hidden within your finished picture!! Can you find them all? 
Includes a handy poster to help you match the pieces, allowing children to set their own difficulty level, all whilst practising hand eye coordination and developing patience skills. A lovely activity to share and do as a group, too! 
The puzzle is 61 x 38cm when complete. 
Recommended for Ages 4+ 
---
Share this Product
---
More from this collection