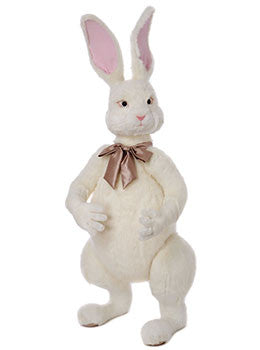 Charlie Bears
Charlie Bear Easter The Rabbit
---
It's your very own Easter Bunny! 
Standing at 117 cm tall and one of only 500 released worldwide, Easter looks like he has just stepped out of a story book. 
Released as part of the 2016 Charlie Bear Collection and made from fluffy white plush, this beautiful big bunny is fully jointed to sit and stand, including wiring in his elbow and hands allowing him to hold objects. 
With huge, poseable ears lined in soft pink fabric and a hand embroidered nose with extra long whiskers, Easter has an animated look enhanced by his floppy satin bow. 
Easter will arrive wearing his certificate stating that he is Number 9 of 500 released. 


Collectors, please note: Easter has been heavily reduced due to exhibiting a bit of wear from indoor display and movement between our stores. The bottoms of his feet have some darkening from standing indoors, and his right ear has a tendency to 'flop' (so he's part lop-ear bunny now!)
Still an excellent companion during bunny-season or to display all the time, we know that Easter would sure love to join you at the next Tea Party you have in your own Wonderland. 
Due to Easter's size, our regular couriers are unable to accommodate shipping and online orders are for local Pick Up only. 
Please contact us to get a private quote prior to purchase or to organise your own courier service.
We do recommend in store pickup so you may first inspect this rare rabbit 'in the fur'! Please contact us with additional enquiries or photo requests. 
---
Share this Product
---
More from this collection