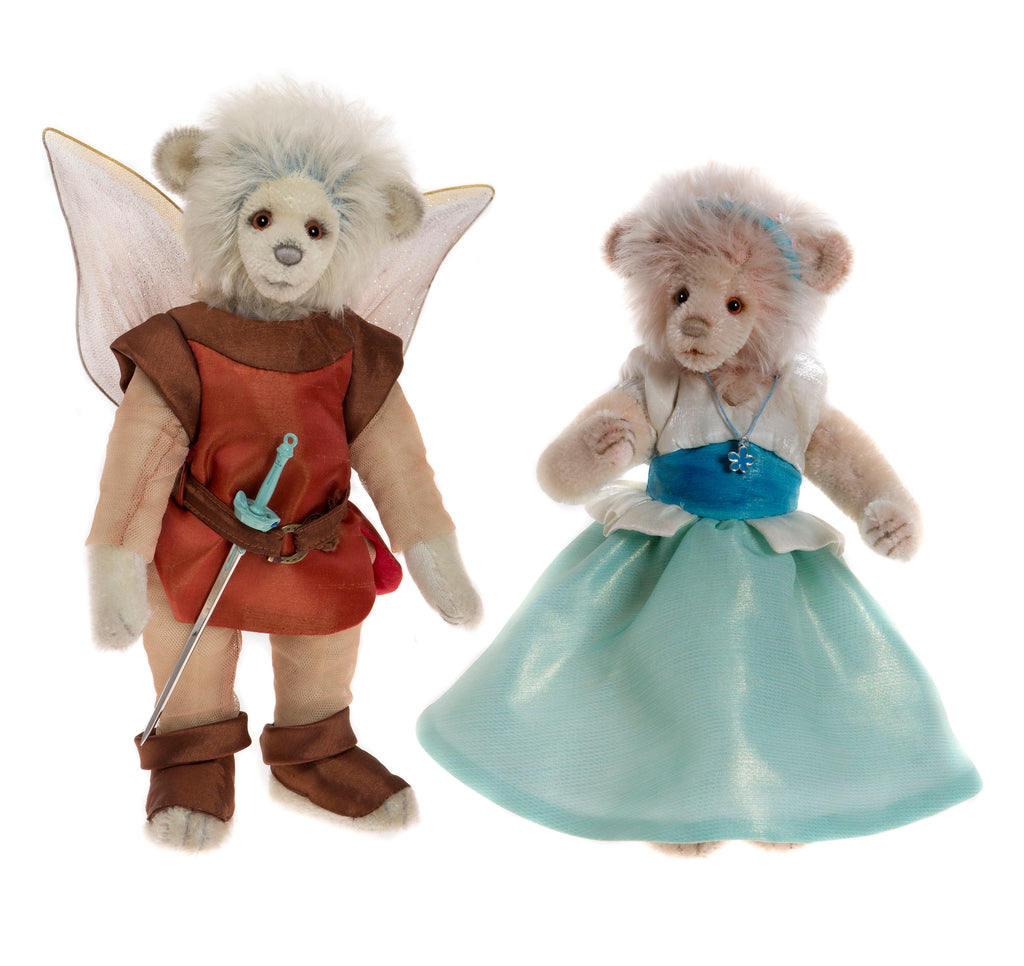 Charlie Bears
Charlie Bear Thumbelina & The King of the Fairies
---
An enchanting duo. 
From the coveted 2017 Charlie Bears Isabelle Collection, Thumbelina and King of the Fairies bears are an awe-inspiring pair. 
These mystical mates were made exclusively to 200 pieces released worldwide and come in a Collectors Box with their Certificate of Authenticity. Both bears were designed by Isabelle Lee and have 100% Mohair coats. 
Thumbelina has amber-coloured eyes and hand-stitched facial detailing. Her Mohair coat is a very soft pink colour, complimented by her gown in aquamarine and cyan, with shimmery-white padded detailing in the bodice.
She also wears dainty blue bows on her toes, a blue headband with white flowers, and a darling little blue flower pendant necklace to match. 
The King of the Fairies has wire-framed wings and wears a detailed multi-layer ensemble which includes tulle components, and a bold amber tunic to match the colour of his eyes.
A horseshoe-buckled belt and weighted wand are fixed to the tunic, adding to the grandeur of his presentation. The King of the Fairies' coat is a dusty blue-grey colour, and like Thumbelina, he is 100% Mohair and fully jointed. 
Both bears stand solidly without support and are fantastic for display. 
Measurements: each bear is approx. 28cm tall. 
As a Collectors Item, all bears from the Isabelle Lee Collection are recommended for 14 years + 
Please note that Thumbelina & The King of the Fairies come together as a pair, and cannot be sold separately. 
---
Share this Product
---
More from this collection