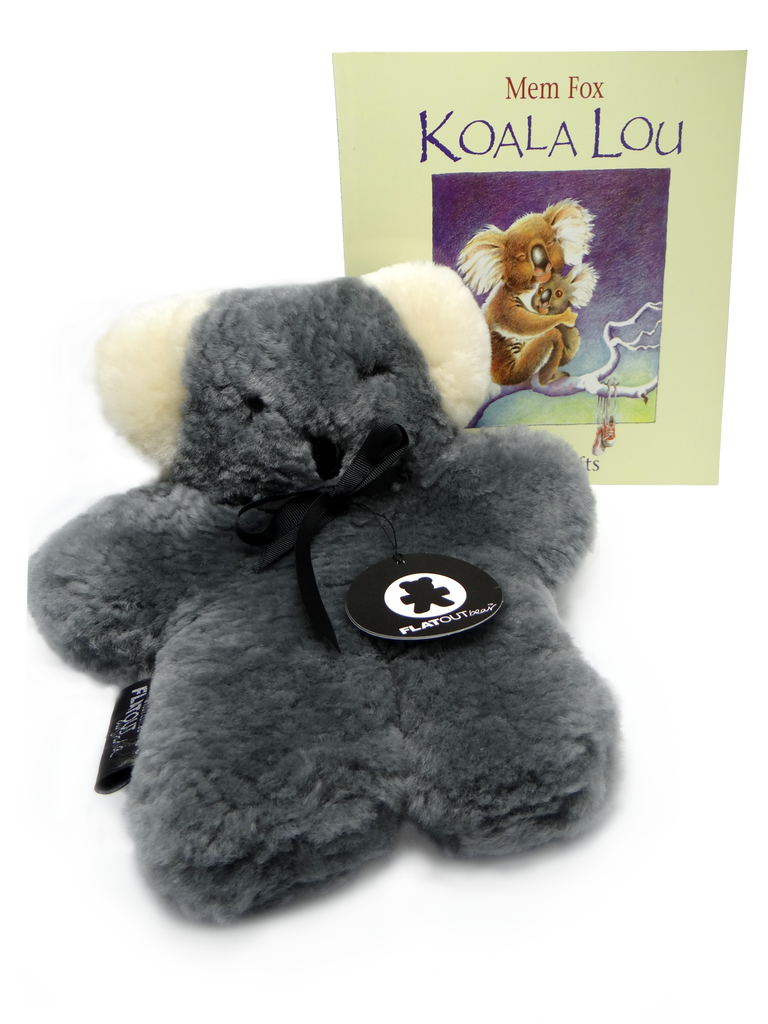 Flat Out Bear
Koala Comfort Set
---
Oh Koala Lou, I DO love you!! 
Two cuddly Aussie essentials, perfect for a Newborn or Baby Shower gift! 
Created by two Sydney sisters, Flat Out Bears are made from Australian sheepskin and are so deliciously soft. 
Coloured to resemble a cute Koala with fluffy ears and a long nose, this Large size Flat Bear has safety eyes and is completely safe from birth. This sweet offering is hand cut so dimensions vary around 30 x 25cm, making it the perfect pillow or tummy time companion. 

Safe for baby, Koala Flat Bear is destined to become baby's best friend! 
Children learn to self-settle with this exquisite comforter. Simply rest Koala on Mum or Dad, cuddle her to your chest when feeding, and sleep with her a little before birth if you can, so that Koala will get your scent and your baby will associate Koala with you. 
And why not read a little classic Australian picture book while you cuddle up with your baby?
Written by acclaimed Australian Children's Author Mem Fox and illustrated by Pamela Lofts, this is the delightful story of Koala Lou, a little koala who is so loved by her mother. But as mum gets busier, Koala Lou thinks she needs to find new ways to get her mother's attention... Not always in the best manner! 
A sweet story reinforcing a Mother's love for her child no matter what is going on in the world.
---
Share this Product
---
More from this collection