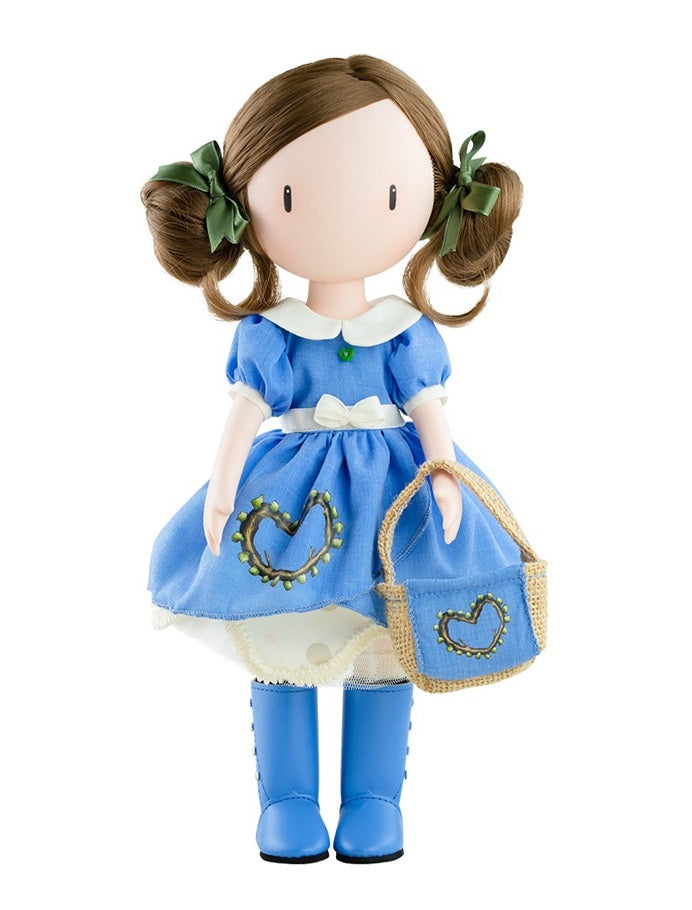 Paola Reina
Santoro I Love Every Bit Of You Doll
---
Made with love in Spain! 
The Santoro London 'Gorjuss' dolls sure do live up to their name! With exquisite attention to design, quirky styling and a durable composition, these compelling dolls provide an alternative doll experience for both imaginative children and quality doll collectors. 
I Love Every Bit Of You is a gorgeous girl who has put her unique touch on a classic Victorian-style ensemble. Her pretty blue Heart Dress has a layered skirt that flares with a tulle pannier and lace bloomers underneath. Blue boots and a hessian bag match her coordinate, with her brunette hair tied in delicate twin buns with green bows. 
But of course... she wouldn't be a Santoro Doll without the signature stripey socks hiding underneath! 
Designed with smooth, simply formed limbs for easy engagement, I Love Every Bit Of You is five-way-jointed and posable. 
Santoro dolls also come without a defined nose or mouth. This neutral facial expression prompts the holder's imagination and empathy skills, allowing them to conjure different emotions and expressions for their beloved Santoro doll.   

Made in a quality vinyl to sustain play and display, Santoro Dolls are subtly scented with a delightful Rose & Honeysuckle medley and come in a beautiful collectors box. 

Santoro Dolls are Made in Spain by the artisans at Paola Reina, in compliance with the highest European Safety Standards. 
Measures: 32cm tall 
Recommended for ages over 3 years
---
Share this Product
---
More from this collection